The best online jobs for VETERANS: We Salute You!
A brief introduction to the best online jobs for Veterans. We think Veterans are special people and it's great to honor them for their service. So if you are a veteran, we salute you and thank you for your service. It sure takes a special person to put their life on the line to protect and serve others.
One thing we recognize is that sometimes being reintegrated after serving can often be a challenge for some veterans. Being in the service can often cost an arm or leg, literally. Let's not forget the post-traumatic stress you may experience.
In addition to which, it can be a challenge trying to find a "regular" job to meet your financial needs. This is especially so, if you were seriously injured in the line of duty. Sometimes it's difficult even if you were not injured.
That being said, as a veteran it makes sense to find an online job that you can easily access and make money. After all, serving your country and providing adequately for your family should not be such a challenge. So here are some great online jobs as well as online business opportunities we think you'll love!
More: 10 Fantastic ways to make money by working form home 
Best Online Jobs for Veterans
Where to find them
While it's not feasible for us to list every single online job you may be able to access, it makes more sense to tell you where you can find them.
More and more employers are posting their job vacancies online, so check out our article on best job posting sites for your job search, to access more online jobs.
You can even set up alerts on any one of these sites, so you can know first-hand about new jobs being posted. Having an online job is convenient; it provides a level of flexibility, while providing you with an income.
Apart from the best job posting sites for your job search, Amazon.com has some of the best online jobs for Veterans. Now not all of these jobs are online, but Amazon.com makes it a point to focus on providing jobs for veterans.
Below is a snapshot of some of the jobs available to veterans on Amazon.
Of course there is a procedure to follow when applying for these jobs, online or otherwise. In addition to which, you've got to dust off your resume and get ready for that interview.
Now, if these online jobs do not tickle your fancy, there are other alternatives. There are great online opportunities you can use to earn a much more substantial income from home.
If you are looking for financial independence and a bit more flexibility when it comes to earning an income, then read on.
We want to show you a few work at home opportunities that you can use to make a 6-7 figure income in the long run. The best part is that you can do it all from the comfort of your home. These are much better than any online job really.
Better Work at home opportunities
Affiliate marketing as well as eCommerce or drop-shipping, are fantastic ways to earn an income online. For example, you can have your own online store selling the products that you love. You don't even have to own the products to be successful doing something like this. That's what drop-shipping is all about.
To learn more about affiliate marketing and how it works, check out the short video below.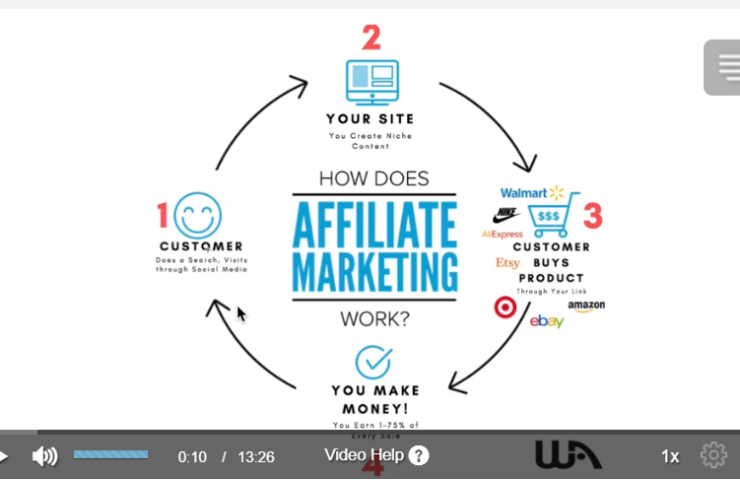 You can also combine both opportunities and earn a phenomenal income from the comfort of your home. Of course there are other work at home opportunities you can use to earn an income. But we love these two (2) opportunities, since they are really great ways to earn passive income online.
In our article How to Earn Money by Working from Home, you will find ten (10) of the best opportunities anyone can use to start earning an income from home.
While we are cognizant of the fact that you are looking for the best online jobs for veterans, these ten (10) work at home opportunities can provide you with more income than any regular job can. With an online job, your income is limited. But with a work at home business opportunity, you can determine your level of income.
As a veteran, you really should not have to jump through hoops to find a way to provide for your family. You can use any one or a combination of the opportunities highlighted in our article to build yourself a 6-7 figure income in the long run.
So if that's something you are interested in, then check out our article on How to earn money by working from home!
Again, thank you for your service and feel free to share your thoughts and experience with us in the comment section.