Part Time Accounting Jobs: Where to find the good ones and novel ideas for you!
Okay, now I could be wrong, but I think that an accounting job is one of the easiest jobs to get. But then again, that could depend on where you live and what's happening within the economy. Even so, every organization needs at least one person for accounting purposes.
So where can you look to find great part time accounting jobs?
Well, classified ads are often good places to look for part time jobs, but things are changing. More and more employers are using job posting websites, to fill vacancies. That means, if you are only using the classified ads to find part time accounting jobs, then you could be missing out on some great accounting jobs.
Part Time Accounting Jobs: Where to Find them
So what you want to do, is definitely utilize these job posting sites to find your part time accounting job. For example, if you are looking for part time accounting jobs in London, then TotalJobs UK is a great place to start. On TotalJobs UK, you can find pages and pages of employers looking to fill permanent and part time vacancies for accounting jobs.
In addition to which, once you create your free account with TotalJobs UK, you'll have access to the other job boards affiliated with TotalJobs. So you definitely need to check it out.
More: How TotalJobs UK works
Apart from TotalJobs UK, there are several other great job posting websites you can use to find part time accounting jobs:
MonsterJobs.com
CareerBuider.com
StepStone
JobSite UK
This is not an exhaustive list by any means, but these are just some of the most reputable job posting sites out there. More sites would be added to this list in future, but these are great job posting websites you can use, to start looking for part time accounting jobs.
Part Time Accounting Jobs With a Twist
Sometimes you simply need to think outside the box, to achieve your goals. So here are some other part time accounting job ideas for you, with a twist.
#1. Freelance Accountant
If you feel like you'd like to do accounting on a freelance basis, then check out sites like Upwork.com and Fiverr.com. Both of these sites offer freelance opportunities to any and everyone. Here's the thing, people who have online businesses like myself, as well as, a host of other individuals and companies, outsource certain tasks they aren't interested in doing themselves.
That being said, people are always looking to find some type of business related service on these sites. Some need articles written, as well as, other  specialized services. Outsourcing certain tasks is a great way for business owners to have more time to focus on other things and increase their businesses overall effectiveness and efficiency. In addition to which, outsourcing these tasks, frees them up to do what they really love.
You can also set yourself up on Fiverr.com and start your own freelance accounting business, if that's something you think you might like to do. The only drawback is that, these sites will take a commission from whatever you get paid by your client. So if you can live with that, then it's worth looking into.
#2. Accounting Online Tutor
I have a brother and sister who are both Certified Management Accounts (CMAs), so I am covered! Besides I know a thing or two about accounting, since I studied it at school and I tutored in accounting privately, for a while. But hey, that's something else you can do as well, without having to leave the comfort of your home.
Check this out!
You can provide accounting lessons on a part time basis at your home or you can do it online. Here's how.
Have you ever heard about Udemy? Probably not, but listen to this. Udemy is a website on which you can find a multitude of educational courses. Udemy is like Amazon, you can find almost anything, only it's all about educating yourself. So you can find a wide variety of courses on Udemy.
Check out the snapshot below to see some of the accounting related courses offered on Udemy.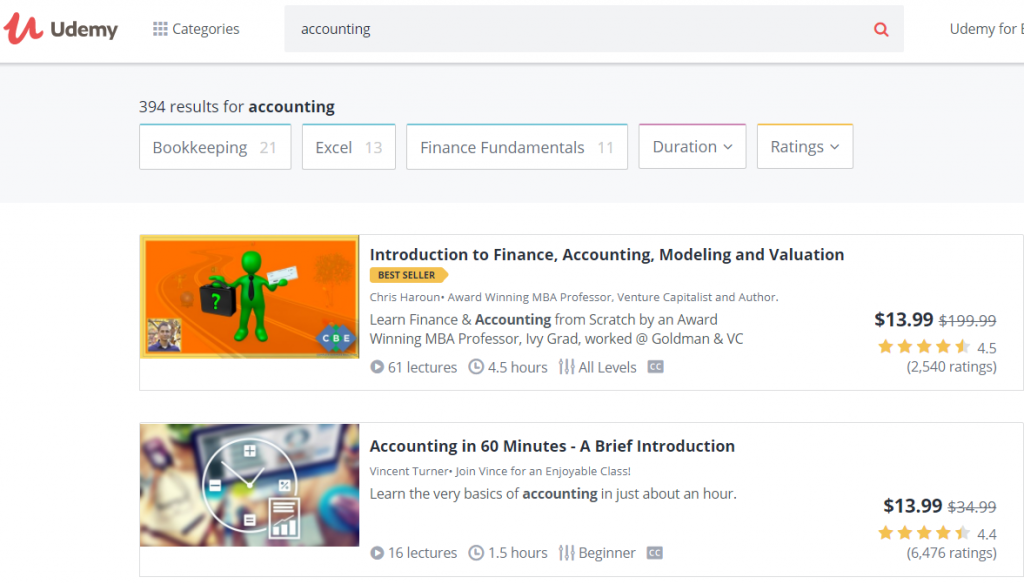 How you can make the Udemy opportunity work for you
To make the Udemy opportunity work for you, you can create an accounting course on Udemy, for others to access. Once you create your course, you put a price on it. When students sign up for your course, you get paid.
From there, you can utilize your student reviews, to tweak your course accordingly. But that's it really and you can create as many courses as you want. Your course runs 24/7 and you earn an extra income from the comfort of your home.
Let's do the math shall we? Say, you offer one course and you price it at $10. and 7 people sign up per day (just being conservative). That's an average of an extra $2100/month, without you having to do anything extra. Sounds pretty great, doesn't it? To learn more about Udemy, click on the link below.
More: How to get started with Udemy
#3. Start your own Accounting Website
Apart from tutoring, you can also give accounting and other related advice from your own website and earn money from home. For example, there are lots of people out there who have no idea on how to manage their personal finances, or even do their own personal bank reconciliation statements.
Now that might sound like something basic to you and me, but it just isn't something that most people are able to do. Some people are just not into the math and accounting side of things.
So, the same way I am using this website to help you solve your problem of finding part time accounting jobs, you can use your own website to help other people solve their accounting issues and more.
The cool thing about having your own website is that you can combine all of the ideas I have shared with you and create multiple streams of income.
For example, if you have a website, you can:
offer helpful accounting advice to others
provide accounting services to others
have your Udemy course on it as well (that's more income for you)
provide reviews on other helpful accounting products and services
have accounting worksheets available for accounting students who might want more practice while learning about accounting.
Makes a lot of sense, doesn't it? You can even do this in your spare time.
Start Your Accounting Website Free!
Look at having your website as a great way to start your own accounting consultancy business. The only thing is, it costs way less to get it started and you can make quite a bit of money doing something like this.
The cool thing about having your own website is that you can do anything with it. So even if you don't want to do part time accounting, you can do whatever you want and still earn an income. Click on the link below and you'll see what we mean.
More: Learn how to Get Started for Free
The great thing about having your own website is that you can determine your level of income. With your own website, you can make money in a variety of other ways as well.
So you can find part time accounting jobs and you can have your own accounting website up and running. Or you can do something totally different!
After all is said and done, I'll say you've got some great options when it comes to finding part time accounting jobs. I hope you can see the possibilities with all these ideas. Ready to learn how to start your own website whether it's accounting services or some thing else you are passionate about? Then click on the link below to get started absolutely FREE!